Good Morning Fans, Running late today, sorry, but let me make it up to you with ..... Paranormal! Freebie list!
Check out our Interview and Giveaway with Karen Aminadra !!
Goddess Legacy: Goddess Series Book 1 (Young Adult / New Adult Series)
UK Link
Legacy Kore is an average seventeen year old with your basic insane crush on the hottest guy in school... rather Adin Shepard was the hottest guy in school before he graduated a couple of weeks ago. Now it's summer vacation and she's not sure when she'll get to see him again. Until he shows up at her surprise seventeenth birthday party. Cue saliva glands--it's time to drool.
But her giddiness is cut short when her guardian delivers an emotional blow, telling Legacy her mother hadn't died when she was baby, but that she'd left for Legacy's protection all those years ago. After the initial shock, she expects some story about how her mother was in the Witness Protection Program or something else just as crazy, but when she's told that her mother is a Greek Goddess and that Legacy is changing into one too, she thinks her guardian needs a trip to a mental hospital. Legacy a goddess? Um, yeah. Right. And her BFF is the Easter Bunny.
While trying to make sense out of something that was impossible to believe, Adin asks Legacy out on a date. She is thrilled that her fantasy might become a reality, but when she meets the new guy in town, River, she discovers everything isn't always as it seems, and the legacy she wants just might not be the legacy she is destined to have.
Fairy Metal Thunder (Songs of Magic, #1)
UK Link
B&N Link $0.99
Fairy Metal Thunder
:
A rock & roll fairy tale.
Jason Becker plays guitar in a small-town garage band called the Assorted Zebras, along with a few other kids from his school. Unfortunately, they have no fans, no gigs, and they're going nowhere. Then Jason catches a goblin robbing his house, and he chases the little green thief to creepy old Mrs. Dullahan's overgrown back yard, where he discovers that the miniature doors in her trees lead deep into the fairy world.
Jason returns with fairy instruments that transform the band's sound into powerful, enchanting music. Soon, the Zebras are drawing huge crowds, but they discover their new gear is brimming with destructive magic they can't control.
Their shortcut to success turns Jason and his friends into enemies of the treacherous Queen Mab, who wants to keep the fairy world secret from humans. She sends magical hunters to track them down, including one of the most dangerous horned creatures in Faerie...a small unicorn named Buttercake.
Escape (The Prisoner and the Sun #1)
UK Link $0.99
B&N Link
Fantasy adventure. Inspirational allegory. The journey of a lifetime.
Young Iliff believes his prison world to be all there is. But when a stranger tells him the incredible story of a long-ago escapee, Iliff resolves to learn the truth. Thus begins his journey to find the Sun, a magnificent power from which all things are said to originate -- including him. But first he must venture beyond the very walls he is charged with upholding and into realms deep and dark, where fearsome creatures lurk.
So begins
The Prisoner and the Sun
, the fantasy-based trilogy that asks: What lies beyond our walls?

Escape is followed by Lights and Shadows and Final Passage.
Tuesday's Child (Book 1 of Psychic Visions, a paranormal romantic suspense)
UK Link
B&N Link
What she doesn't want...is exactly what he needs.
Shunned and ridiculed all her life for something she can't control, Samantha Blair hides her psychic abilities and lives on the fringes of society. Against her will, however, she's tapped into a killer--or rather, his victims. Each woman's murder, blow-by-blow, ravages her mind until their death releases her back to her body. Sam knows she must go to the authorities, but will the rugged, no-nonsense detective in charge of tracking down the killer believe her?

Detective Brandt Sutherland only trusts hard evidence, yet Sam's visions offer clues he needs to catch a killer. The more he learns about her incredible abilities, however, the clearer it becomes that Sam's visions have put her in the killer's line of fire. Now Brandt must save her from something he cannot see or understand...and risk losing his heart in the process.
As danger and desire collide, passion raises the stakes in a game Sam and Brandt don't dare lose.
Sojourner (Book 1) (Sojourner Series)
UK Link
B&N Link
Seventeen-year-old Elizabeth Moon has been dreaming of her murder her entire life, and in those dreams, a dark presence is there, watching. When she returns home to Hauser's Landing, the very place her father disappeared, she comes in contact with a gorgeous boy named Lev Walker, and it's not long before she's falling in love. But there's something wrong with Lev. When she realizes he's the eerie watcher in her dreams, she'll have to discover the truth. Is he a guardian angel or a sojourner, an angel of death who has come to collect her soul?
Playing With Fire - The Dragon's Trophy (Reluctant Monster Breeding - Erotic Romance)
UK Link
Seeking a challenge, Neve - a young thief with a passion for danger, sneaks into a dragon's den. She seeks a trophy - a treasure that will bring her glory, fame and riches. What she finds is something else entirely.
Neve is captured by the dragon, Sabras - who in human form is decidedly sexy. Both angered by the thief and taken by her beauty, he decides that he will have his way with her, and she will bear his child.
But once-unwilling Neve soon finds herself developing feelings for mysterious Sabras, and wanting more...
This 9000 word erotic romance contains explicit, reluctant and rough sex with a dragon shifter, with breeding themes.
Immortalis Carpe Noctem (Immortalis Vampire Series #1)
UK Link
B&N Link
Becoming a vampire is easy. Living with the condition...that's the hard part.
Newbie vampire Alyssa never asked for this life, but now it's all she has. Rescued from death by Lysander, the aloof and sexy leader of the Peregrinus vampire clan, she's barely cut her teeth before she becomes a target.
Kallisto, an ancient and vindictive vampire queen – and Lysander's old mate - wants nothing less than final death for her former lover and his new toy. She's not above letting the Acta Sanctorum, and its greatest vampire hunter, Santino, know exactly where the clan can be found.
With no time to mourn her old life, Alyssa's survival depends on her new family. She will have to stand alongside Lysander and fight against two enemies who will stop at nothing to destroy them.
Fortune Cookie Magic (Abriged)
UK Link $3.25
B&N Link
Meeting for lunch at a Chinese restaurant, Jill's friends are shocked by the improbable, amazing tale of good fortune she spins. Lust, sex, love, pregnancy, and a planned marriage to a strapping young hunk, all from eating a red fortune cookie? A FORTUNE COOKIE? Give me a break!
The owner of the Chinese restaurant sets one of the miracle red fortune cookies in front of each of Jill's friends. Gail, the hi-powered attorney, Rita, the gorgeous model, and Saundra, the uppity socialite, look at each other, then at Chad, Jill's dreamboat fiancée. What should they do? What would you do?
Fortune Cookies is a deliciously naughty, whimsical, tongue in cheek, romantic story that leads four friends on a paranormal journey into the supernatural in search of love, fulfillment and happiness. It is a novel for couples, about couples. Erotic and funny, Fortune Cookies will send you searching Chinese restaurants for the elusive red fortune cookie!
Fire Burn And Cauldron Bubble: The Jolie Wilkins Series, Book 1 (Paranormal Romance)
B&N Link
A self-deprecating witch with the unique ability to reanimate the dead.
A dangerously handsome warlock torn between being her boss and her would-be lover.
A six hundred year old English vampire with his own agenda; one that includes an appetite for witches.
The Underworld in a state of chaos.
Let the games begin.
Life isn't bad for psychic Jolie Wilkins. True, she doesn't have a love life to speak of, but she has a cute house in the suburbs of Los Angeles, a cat and a quirky best friend.
Enter Rand Balfour, a sinfully attractive warlock who insists she's a witch and who just might turn her life upside down. Rand hires her to help him solve a mystery regarding the death of his client who also happens to be a ghost. Jolie not only uncovers the cause of the ghost's demise but, in the process, she brings him back to life!
Word of Jolie's incredible ability to bring back the dead spreads like wildfire, putting her at the top of the Underworld's most wanted list. Consequently, she finds herself at the center of a custody battle between a villainous witch, a dangerous but oh-so-sexy vampire, and her warlock boss, Rand.
Eternity Embraced (Demonica)
UK Link
B&N Link $0.99
Desire...
Demon slayer Andrea Cole has always taken down the demons and vampires she hunts without mercy. But when a fellow slayer is captured and turned into a vampire by a sadistic monster, she must choose between loyalty to her family and the man she loves.
Versus Instinct...
Kaden Quinn has dedicated his life to slaying vampires, so when he is turned into one, his greatest nightmare comes to life. And when the woman he loves is thrown into a dungeon with him -- as food -- he must battle new instincts and old desires, and choose between his life, and hers.
PLEASE NOTE: This is a short novella that originally appeared in The Mammoth Book of Vampire Romance 2 and the anthology Vampires in Love. It has been expanded for its stand-alone digital release. In the Demonica timeline, it falls between book 3, Passion Unleashed, and book 4, Ecstasy Unveiled, though it can easily be read without having read the Demonica novels.
Vampire for Hire: Samantha Moon, Books 1 and 2
UK Link
B&N Link
Books One and Two in Amazon's #1 Bestselling Vampire Series, including:
MOON DANCE
Six years ago federal agent Samantha Moon was the perfect wife and mother, your typical soccer mom with the minivan and suburban home. Then the unthinkable happens, an attack that changes her life forever. And forever is a very long time for a vampire. Now the world at large thinks Samantha has developed a rare skin disease, a disease which forces her to quit her day job and stay out of the light of the sun. Now working the night shift as a private investigator, Samantha is hired by Kingsley Fulcrum to investigate the murder attempt on his life, a horrific scene captured on TV and seen around the country. But as the case unfolds, Samantha discovers Kingsley isn't exactly what he appears to be; after all, there is a reason why he survived five shots to the head.
VAMPIRE MOON
In Vampire Moon, sequel to Moon Dance, private investigator Samantha Moon finds herself hunting down a powerful crime lord and protecting an innocent woman from her ruthless ex-husband—all while two very different men vie for her heart. And as the stakes grow higher and her cases turn personal, Samantha Moon will do whatever it takes to protect the innocent and bring two cold-blooded killers to justice—her own brand of justice.
Red Moon's Reflection (Moon's Reflection Series)
UK Link
B&N Link
A (68.000 words long) paranormal adventure with romance elements.

After Tina crosses paths with Damon Blackdart, she discovers that her soul houses another, dormant soul, Trinity, Damon's Beloved, who died centuries ago.
Damon tries to draw Trinity forward and when he succeeds, Tina befriends her and learns that Damon is part of the Lueeshareteers (Bloodeaters), powerful creatures old as time itself, whose three clans live in seeming peace and rule the world from shadows. After she is swept from Damon's grasp by the Dumes, Trinity's children, she also learns that vampires are not at the top of the food chain.
Marked (Soul Guardians, Book 1)
UK Link $0.77
B&N Link
Sixteen year-old Kara Nightingale's ordinary life is suddenly turned upside down when she dies and wakes up in a strange new world with a new career—as a rookie for the Guardian Angel Legion. Kara is pulled into the supernatural, where monkeys drive the elevators, oracles scurry above giant crystal balls, and where demons feed on the souls of mortals.
With the help of her Petty Officer and friend, David, Kara hurtles towards an adventure that will change her life forever…
La Luxure: Discover Your Blood Lust (Human Vampire)
UK Link
B&N Link
Book One in the Human Vampire Series.
Deep in the heart of the French Quarter, where the Bourbon Street revelry is nothing more than a far off whisper, underground blood-bar La Luxure beckons those with darker tastes through its narrow archway...

Level headed and practical, Julia Brown isn't normally the type of woman that runs around believing in vampires. But when she travels to New Orleans for a week long work conference and stumbles unwittingly into La Luxure, she begins to question that assumption. After a patron is found dead on the street, drained of blood and covered in bites and marks, Julia quickly becomes convinced the city is filled with actual, supernatural vampires.

And at the center of it all is Armand Laroque, who awakens a lust she never knew existed, and a temptation impossible to resist.

Warning: This book is adult romance and not suitable for readers under 18.
Discovery of Death (Blood of my World Novella One): A Paranormal Romance
UK Link $0.77
B&N Link
"A refreshing teen fantasy full of bite, blood and romance." -- K. H. Koehler, author of Raiju
Zach and Rose had fallen in love during their sophomore year, their worlds completely changed and utterly belonging to each other's. It was the first time either had fallen in love, deeply, purely. Aiming for a future together, plans were interrupted when Zach went missing for three long months, leaving Rose distraught, heartbroken and depressed.
Zach awakens in the dark of a coffin, his memory erased, his life and feelings for Rose forgotten. A strange group of people who identify themselves as his family reveal he has become a vampire, one of the undead, and is now a being with incredible power and a thirst for blood.
However, during Zach's absence, Rose learns of her own secret heritage: she comes from a long line of vampire slayers, hellbent on eradicating the unholy threat of the undead from the face of the Earth. Now, not only does she need to try and get over the young man she loves, she must also come to terms with her new life and what that means for her future.
It is only when her path accidentally crosses with Zach's does lost love begin to surface again.
Discovery of Death is an approximately 25,500-word novella that reveals secrets of the undead, the Slayer Order, and will touch your heart with a story that'll keep you up into the night.
In My Time of Dying (Salt Lake After Dark)
UK Link $0.77
B&N Link
In My Time of Dying is a 72 page novella or novellette set in the world of Salt Lake After Dark.
David has a problem: Angel's pregnant with his twin daughters and he can't be there for her. He's a ghost. Unable to move on, he must come to terms with the circumstances of his death or be stuck forever. But how can he do that and protect the love of his life?
Angel has a problem: She lost the love of her life and she doesn't know how she'll go on. Having moved to a new apartment, she finds it hard to sleep and worries for the health of her unborn daughters. Is she disturbed by memories of love lost, or as her friends have warned her, is it a malevolent spirit haunting her?
Drip Drop Teardrop
UK Link
B&N Link
Drip Drop Teardrop, a Novella.
Even Death Can Fall in Love...
Avery hasn't had it easy.
When she was ten years old her parents died in a car crash. Now nine years later her Aunt Caroline is the only family she has left. And Caroline is dying.
So when Death comes knocking (quite literally) in the form of the damaged and dangerous, Brennus, Avery makes a deal with the reaper in order to save Caroline.
Brennus is an Ankou.
One of the many, once mortal men and women, who were given the choice to become an immortal in exchange for ferrying the dead over into their afterlife.
Nine years ago Brennus took Avery's parents and tried to take Avery, but she fought him and won. Amazed by her strength Brennus followed Avery and has watched over her.
Now he knows Avery is the one to offer him freedom from his obligation to the dead.
And he'll stop at nothing to have her.
Crossover (The Chosen One Trilogy: Book One)
UK Link
B&N Link
Life for Hayden Carlson had never been overly exciting and that was the way she liked it, so when she meets Jasper on a trail in the woods, it never occurs to her that life as she knows it is about to change.
Suddenly, Hayden crosses over to a world she never would have dreamed existed and a future she never would have believed possible. Along the way, she discovers an affinity for magic; her ability to dream of the future and the craft of healing. She meets many beings that become her friends and family, as well as others who will try to capture her for her powers.
Hayden must find a way to escape being captured, save the man she loves, and decide where she stands in the balance of good and evil.
Limerick (The Shimmer Trilogy, Novella #2)
UK Link
B&N Link $1.49
Jensen hoped she'd never need Shimmerspell again. But now someone is stalking her, someone claiming to be the Lady of the Lake. To make matters worse, witches and dragons have come out to play. Now Jensen must figure out how to harness her power and accept her destiny before she ends up losing everyone she loves.
Paradox - Progeny Of Innocence
UK Link $0.66
B&N Link
Two Worlds. One Ancient... still reeling from the
ravages of a War. A
World where powerful Beings from Ancient Civilizations rule. A Realm
Where Gods, Angels, Myths and Magic still exists.
Long ago, in an almost forgotten Realm, a race of fallen Angles
clash with a ruling house of Angels. Their battle changed events in the Ancient World and the New World forever.
A Realm where a year can last centuries and an Ancient
magical people still rule, even the immortals face danger.
Trapped
between the old world and the new is Grace, a girl cursed with horrific
visions and memories from a past she does not understand.
Over the centuries, from the time before time, the
Grigori were called many things. In Greece, they called them,
Vrykolakas.
In Romania, Strigoi. In earlier times, there were others. Other
blood-sucking demons, that preyed on the innocent. In ancient Babylonia,
it was Lilitu and her sistren, who instilled fear among the
Babylonians. In the new world, they would go by another name. Vampire.
Witch Got Your Tongue (A Tongue-Tied Witch Novel)
UK Link
Aren McAllister is a beautiful but shy and withdrawn young woman who has battled a stuttering problem her entire life. But then, seemingly by accident, she discovers that she wields an incredible power: she is actually a witch and can cast potent spells . . . but only by singing them.
This discovery throws Aren into a dangerous power struggle between different factions in the society of witches who live among humans unknown by them. And for the first time she encounters a romance that may change her life as much or more than the powers she never knew she had.
WITCH GOT YOUR TONGUE is the first novel in the Tongue Tied Witch series, a brand-new urban fantasy thrill ride from award-winning, best-selling novelist Livia J. Washburn, author of the best selling Fresh Baked Mystery series and the Literary Tour Mysteries. Trade Paperback: 152 pages, 45,000 words.
Immortal Embrace (Embrace Series)
UK Link
B&N Link
Immortal EmbraceBook One of the Embrace Series
Sophia Pierce has suffered since her brother left, and is unsure if she will ever get over it. That is until her family decided to move to Wenham, Massachusetts. Her and her siblings have been ordered to protect their little sister, and must return to High school. This is where Sophia finds her soul mate Nathanial and life as she knows it is about to change.
As a vampire, Sophia has always kept to herself, but as a high school student will she learn to step out of her comfort zone a little? Sophia has found a best friend in a powerful witch and a love to call her own. That is until something tragic happens and blood is spilled. Will Sophia be able to resist the sweet scent of her beloved's blood?
This is Sophia's story, a story of a girl who finds herself, love and everlasting friendship. The excitement of this story wraps mortals, vampires, witches, and shape shifters all into a romantic tale of young love, friendship, the meaning of family. The story of a girl who tries to finds herself when she thought it was all lost.
The Demon's Bargain (Demons Unleashed Erotic Novellas)
UK Link
B&N Link $0.99
When the Demon bargains for one night of her pleasure...no one loses.
Vetis, the Demon of Corruption, is bored. It's too easy to tempt humans into committing horrible acts and the appeal has worn thin. He's restless and seeking distraction...until a gambler offers to settle a debt by submitting his wife for Vetis's use.
One tiny glimpse of the rage in Amara and the absolutely sexless way she endures his sensual touch, and Vetis has his challenge. He'll make this woman enjoy the carnal pleasures of sex.
The bargain is struck. One night. Of HER pleasure. And the debt will be paid.
Ill-used by her husband, Amara believes she is doomed, for she has no pleasure within her, her innocence forfeit long ago. But as Amara's body awakens with sinful desires and carnal longings, hope begins to blossom that pleasure is within her reach.
Demons never fail and the challenge is on. Vetis knows with the right sensual persuasion the debt will be paid in pleasure, however he doesn't bargain on falling in love.
Warning: this erotic romance novella contains m/f/m sex, light bondage, and smokin' hot demon sex
Bargain Books
VAMPIRES Paranormal Romance BOX SET
$0.99 Amazon.com
Book 1 - Vampire EROS
Book 2 - Destiny with blood
Book 3 - Prince - Heir of Darkness
Book 4 - OMEGA - Vampires adversaries
Sisters of the Moon Box Set (Books 1-3)
$1.99 Amazon.com
BOUND TO NIGHT
BOUND TO MOONLIGHT
BOUND TO SECRETS
Total Word count approx. 80,000
Bound to Night
Waking up after a brutal werewolf attack, telepath Tasha Grant finds herself a prisoner of The Facility, an organization carrying out illegal research into the paranormal. She dreams of freedom, a normal life, and going home, but after eight long years, she believes it will never happen. Her life changes with the arrival of the stunningly gorgeous Jack, the latest unwilling guest of The Facility. Passion flares between them, but Jack refuses to share his body or his mind.
Jack must fight his burning desire for Tasha; he has a job to do—destroying The Facility—plus a very good reason for keeping his distance from for the young werewolf. Only when they escape their prison, does he admit his feelings and accept the possibility of a future together. However, Tasha yearns for a normal life, and Jack is a vampire…
As the past unravels and they uncover the secrets behind Tasha's attack, she realizes that 'home' is farther away than ever. Now, she must decide if that matters when the alternative is a place at Jack's side…
Bound to Moonlight
Anya, a powerful telepath, has always believed she worked for the good guys–the organization that created her, trained her, and turned her into the ultimate weapon. Her most recent assignment: assassinate the head of a group of mercenaries. The very man she believes is responsible for the death of her sister.
Investigating the disappearance of three pack members, Alpha werewolf, Sebastian Quinn, finds himself under the scrutiny of a deadly group, The Agency. Targeted by their assassin, he must now fight to save his own life.
Captured and held by the charismatic werewolf, Anya feels the stirrings of passion. For the first time, there is something beyond duty. Now she is faced with a choice — complete her assigned mission or risk everything she has ever known for a chance at love.
Bound to Secrets
Six years ago, an attack by a rogue werewolf plunged Doctor Connor McNair's perfect life into nightmare. Now the mere scent of blood awakens the beast within him. He's teetering on the brink of self-destruction when an intriguing rumor leads him to the desolation of Rannoch Moor and the one woman who might call him back from the darkness.
Part of a telepathic experiment that went dangerously wrong, Keira's mind will destroy anyone who gets too close. Unable to control her powers, she has cut herself off from all human contact and found a measure of peace hiding on the moors with only the wild animals for company. Until Connor arrives, awakening hopes and desires buried deep inside her.
Connor is determined to save her, but some wounds are beyond the powers of a doctor to heal and time is running out, because Keira's mind holds secrets that certain people would kill to keep hidden…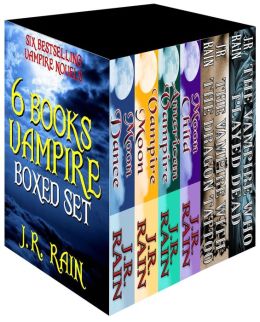 6-Book Vampire Boxed Set
$2.99 Barnesandnoble.com
Six Bestselling Vampire Novels by J.R. Rain, including:
MOON DANCE
Mother, wife, private investigator...vampire. Six years ago federal agent Samantha Moon was the perfect wife and mother, your typical soccer mom with the minivan and suburban home. Then the unthinkable happens, an attack that changes her life forever. And forever is a very long time for a vampire. Now the world at large thinks Samantha has developed a rare skin disease, a disease which forces her to quit her day job and stay out of the light of the sun. Now working the night shift as a private investigator, Samantha is hired by Kingsley Fulcrum to investigate the murder attempt on his life, a horrific scene captured on TV and seen around the country. But as the case unfolds, Samantha discovers Kingsley isn't exactly what he appears to be; after all, there is a reason why he survived five shots to the head.
VAMPIRE MOON
Private investigator Samantha Moon finds herself hunting down a powerful crime lord and protecting an innocent woman from her ruthless ex-husband - all while two very different men vie for her heart. And as the stakes grow higher and her cases turn personal, Samantha Moon will do whatever it takes to protect the innocent and bring two cold-blooded killers to justice - her own brand of justice.
AMERICAN VAMPIRE
Private investigator Samantha Moon receives a heartbreaking phone call from a very unlikely source: a five-year-old girl who's been missing for three months. Now on the hunt, Samantha will use her considerable resources - including her growing supernatural abilities - to locate the missing girl before it's too late. And as she gets closer and closer to the horrible truth, she receives devastating news on the home front. Now with her world turned upside down, Samantha Moon is forced to make the ultimate choice of life and death.
MOON CHILD
Now in Moon Child, sequel to American Vampire, private investigator Samantha Moon is faced with an impossible decision—a decision that no mother should ever have to make. A decision that will change her life, and those she loves, forever. And through it all, Sam finds herself in a lethal game of vampire vs. vampire as a powerful—and desperate—enemy will stop at nothing to claim what he most desires.
THE VAMPIRE WITH THE DRAGON TATTOO
Three years ago, high school student Veronica Fortune witnessed the brutal murder of her parents. Now armed and dangerous, she sets out to hunt down the very thing that destroyed her life. That is, until she disappears. Spinoza is a private investigator who specializes in finding the missing. He's good at what he does. Damn good. But he's also a recovering alcoholic and a royal mess. Hired to find Veronica, Spinoza won't let his personal demons - or demons of any kind - get in the way of finding the truth about the missing girl.
THE VAMPIRE WHO PLAYED DEAD
Two years ago, a woman is murdered in cold blood. Now a son she'd given up for adoption returns to claim his inheritance. To verify his claim, a DNA test is ordered. Except there's one problem. Her grave is empty. Hired to find the missing body, Spinoza will follow a set of clues that leads him to the unthinkable, a world of nightmares and dreamscapes. A world inhabited by the living and the dead.
H.T. Night's 8-Book Vampire Box Set
$2.99 Amazon.com
Eight bestselling vampire novels from #1 bestselling author, H.T. Night, including:
VAMPIRE LOVE STORY
Josiah Reign is a lover and a fighter. Out for a simple jog, he happens upon a young woman who needs help. So Josiah does what he does best. He takes on her attackers...all five of them, in fact. Little does Josiah know that this one act of goodwill will introduce him to a very strange world, a world of dreams...and nightmares.
THE WEREWOLF WHISPERER
For Josiah Reign, life as he knows it has been forever changed. In two shorts months he went from unbeliever to the "The Chosen" - savior of the Mani people (a vampire race that has been living underground for 10,000 years). Now Josiah must learn to control his powerful new body, all while understanding his destiny...and falling deeper in love.
FOREVER AND ALWAYS
Josiah heads for Europe to understand his gifts, where he trains with a very unlikely master. Soon, Josiah is fighting off enemies from all sides, all while his love, Lena. Along the way, two unsuspecting enemies surface and now Josiah needs to protect what is rightfully his.
VAMPIRES VS. WEREWOLVES
Josiah is building his own Mani army to take on Krull for a future battle of epic proportions. Old and new loves reveal themselves as Josiah comes to terms with his destiny.
WEREWOLF LOVE STORY: PART ONE
Five Years before Vampire Love Story. It is 2006, and Tommy is training hard before his second mixed martial arts match. On a random night he runs across a sexy, mysterious woman named Sasha. Sasha turns Tommy's life upside down and out of control. On a chance encounter, Tommy befriends a vampire named Patrick. Both Patrick and Sasha change everything Tommy has ever known to be true.
WEREWOLF LOVE STORY: PART TWO
Tommy meets Maya, the woman of his dreams, and is able to make sense of his new reality. A young Josiah Reign befriends Tommy along the way, and Tommy has to inevitably face his true destiny of becoming a werewolf. Will Tommy choose his destiny, or become something no one had ever thought possible?
THE RISE OF KYRO
Tommy is back. Now, he just needs to figure out what it means to be a werewolf while keeping it a secret from young Josiah, his enthusiastic fight prodigy with a superhero complex.
BAD BLOOD
They call him Spider. And people come to him when they have a problem. So when teenager Parker Cole approaches Spider at night school, he figures she's just another problem waiting to happen. But then she tells him about her father, who runs a cult called Cloudland based at the foot of mystical Mount Shasta, California. And then she tells Spider about her best friend, who is now dead, her body completely drained of blood. Spider wonders if the death is the work of a fellow vampire...or if he's now the target of a sinister game designed to lure him to Cloudland, where darker mysteries await.
Sisters of Magic Box Set (Books 1 - 3)
$1.99 Amazon.com
Boxed set of all three books in the Sisters of Magic trilogy which includes:
SHADOW MAGIC
Serena is a witch, cursed and forever alone. She accepts her future. Until she meets Drogan. With Drogan a passion deep and unyielding awakens inside her. She is willing to sacrifice herself for his love, but can he put his past to rest and embrace the future?
ECHOES OF MAGIC
Adrianna knows what her future holds for her as a witch - loneliness and heartache. She has accepted that. Until she discovers Grayson near death in the forest. Saving him is her only choice, and even as she falls deeper into the attraction surrounding them, can her magic be enough to stop Fate or the evil that awaits them.
DANGEROUS MAGIC
A loner, Cade takes what the land provides and vows to keep the two men he thought of as brothers alive from the great evil after them. He knows his time is short and the evil is looking for him, but there is just enough humanity left in him to aid his friends. When the flame-haired witch finds him, Cade is instantly spellbound by her beauty. He can either forget her - or give in to the reckless, impossible love that could destroy her...