On the sixth day of Christmas my Book Lover gave to me:
An ebook from Mary Leo's Backlist
Check out the rafflecopter below to enter! All winners announced Christmas Day
Want 6 extra entries towards the Kindle Fire and Gift Card? Purchase a copy of all 3 Secret Santa Holiday Collection books and forward proof of purchase to n.kuhn.acn@gmail.com (proof is forwarded receipt or screen shot of your invoice.)
*Purchase not necessary to win, it's just a way to gain EXTRA entries.
*Kindle Fire and Gift Card rafflecopter is under daily giveaway. There are entries you may enter daily. Look for a new daily rafflecopter with each new day! Please allow for time to compile all entries - winners will be announced on Christmas*
**Entries for Proof of Purchase is only good on new purchases dated 12/12 or later**
In the spirit of giving and paying if forward, all of the author's proceeds for Kissing Kris Kringle will be donated to The Animal Welfare League, an amazing organization dedicated to saving animals lives and working to improve the way they are treated and regarded by society.
Kris Kringle is just an average guy living in the tiny town of North Pole, Maine where Christmas isn't just a holiday—it's a way of life. But not for Kris. He might be named after the big guy in red, but Kris is more Scrooge than Santa.
Until he wakes up from a night of partying with his friends to find himself in possession of a Santa suit, a toy bag and a puppy. Kris soon discovers that he's been relegated to Santa's naughty list and there's only one way to get his name removed....put on the suit and spread some cheer.
Lucky for Kris every cloud has a silver snowflake and his quest to get off that list lands him in the arms of the woman he's been lusting after for years.
It takes a little magic, but Kris is about to get everything he didn't even know he wanted for Christmas.
'Tis the season for Christmas miracles...
Having landed himself on Santa's Naughty List, Nick Santos is given a chance at redemption. Granted, he's tasked with some daunting challenges—pimping Santa's ride and fixing the town's holiday bling in the once year-round Christmas Capital of the World, North Pole, Maine. But playing Secret Santa comes with some unexpected perks, like finally catching the eye of the woman who sparks his deepest desires, Vixen White.
Vixen has no idea what's come over Nick this holiday season, but his good deeds around town help her to remember the magic of Christmas, long forgotten. And his sexy grin and a searing, stolen kiss under mistletoe have her wishing her dream of being Naughty St. Nick's one and only will finally come true.
All she has to do...is believe.
Romancing Rudy Raindear: North Pole, Main is a curious town where Christmas is celebrated all year long. And this Christmas is no exception. Unfortunately, Rudy no longer believes in Christmas and has gotten on Santa's Naughty List. Rudy's red nose proves it. That is until Jenny Bells takes on the challenge of showing him just what 'being good' really means.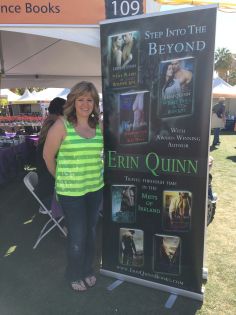 New York Times
bestselling author Erin Quinn writes dark paranormal romance for the thinking reader. Her books have been called "riveting," "brilliantly plotted" and "beautifully written" and have won, placed or showed in the Booksellers Best, WILLA Award for Historical fiction, the Orange Rose, Readers Crown, Golden Quill, Best Books, and Award of Excellence. Go to
www.erinquinnbooks.com
for more information or follow Erin on
Facebook
or
Twitter
.
Amazon bestselling and award-winning author Calista Fox began her
professional fiction-writing career in 2005, following an exciting career in
Public Relations, where she specialized in writing speeches and
Congressional testimonies, and also served as five-time Proposal
Project Manager on an $18 billion Department of Defense contract. Her
books have received rave reviews, and she has won several contests
with publication as the prize, multiple Reviewer's Choice Awards, and
Romance Reviews Today's Best Book of 2008
in the erotic novella category.
In 2007, Calista was selected to launch the e-publishing venture for print publisher Red Sage
Publishing, Inc. She has also been invited to participate in an anthology with two
New York
Times
bestselling authors. Her work has been featured in
Playgirl
magazine, RWA's monthly
RWR
magazine (various) and
Romantic Times Bookclub
magazine (various).

Calista is a member of Romance Writers of America and its Phoenix chapter,
Desert Rose, which she has recently served as President and Chair of the Board of
Directors, and Past President/Advisor. She has also served as a member of the Board of
Directors, Newsletter Editor and Arbitration Co-Chair twice before, as well as Chairperson
of the national writing contest, The Golden Quill. She speaks and presents workshops on
various topics, including:
Flawed and Fabulous: Creating Complex Characters
;
Secrets to Writing Award-Winning
Novellas
; and
Creative Writing for Beginning and Intermediate Writers
.

She holds two degrees and is an international vacationer and has traveled the U.S. several
times over by Lear and Gulfstream jets (compliments of the PR gig), always with her laptop in
tow to capture intriguing story ideas and exciting locales!
Calista has also published over 15 e-books and two print novels under the pen name
Ava McKnight. Visit her
website
and
blog
!
You came here to read a bit more about me… great!

I grew up on the south side of Chicago, where my two best-friends and I made up countless love stories about the Beatles. I guess that's how this whole writing-thing got started---three little girls writing romance about Paul, John George and Ringo.

It seems that romance is simply part of my DNA and I can't seem to write much of anything else. Even my mysteries have an element of romance in them. And I intend to keep on writing in the romance genre for many years to come. I love a happy ending.

Recently, I've hit a couple of the Amazon best seller lists for my box set of novellas, so thank you for that!

I just signed with Harlequin for two more books in their American line. Look for them in 2014. Plus, I also signed with Entangled for two romantic suspense books in my new Guardians of the Knight series. Look for these stories sometime during the end of this year, and in 2014. (I'll keep you posted on the actual release dates.)

My Olive Oil series will pick up again in 2014, along with more holiday novellas.

That should be enough to keep me happily ensconced in romance for the next year . . . don't you think?
~ Mary Leo
a Rafflecopter giveaway
a Rafflecopter giveaway